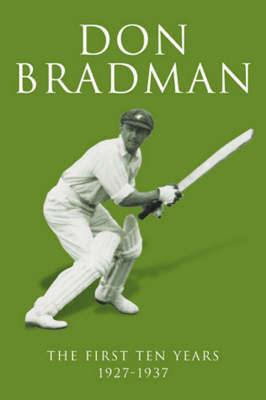 $24.95
AUD
Category: Sport
"Don Bradman: The First Ten Years" is a celebration of Australia's sporting hero and one of the most astonishing sportsmen of all time. Don Bradman made his debut in first-class cricket in Adelaide on 16th December 1927, playing for New South Wales against South Australia. He was then 19 years of age. I n the ten years that followed, Bradman rewrote batting records. He played 51 Test innings and scored 4,659 runs for an average of 97. He also played another 153 first class innings scoring 11,926 runs for an average of 90. His performance was fantastic in every meaning of the word. In those ten years there were 61 scores of 100 or more, including the record Test score of 334 against England at Headingley in 1930. As captain of Australia, Bradman also inspired his team to an historic victory against "Gubby" Allen's England in the 1936-37 Ashes series. This small, elegant book tells the story of Bradman's early years in a number of essays, observations and articles by celebrated cricket writers including Neville Cardus, Douglas Jardine and C. L. R. James, and, of course, Wisden. It also reproduces Bradman's scorecards and statistics for major games, and has an essay and foreword by Piers Morgan, who was a friend and correspondent of Bradman in the years prior to his death in 2001. It is a beautiful, small hardbacked volume, with nostalgia feel, and is a perfect gift book. It spans the seventy years in November since Bradman captained Australia against England in the Ashes. This publication timed for November 2006 when Australia and England begin the Ashes series in Australia. It is fully illustrated with black/white photographs. It presents a fascinating account of the early years of the world's finest batsman. ...Show more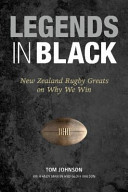 $37.99
AUD
Category: Sport
In the world of rugby, the All Blacks have an unsurpassed legacy of success. We are the best of the best.   Legends in Black comprises frank, no-holds-barred interviews with New Zealand rugby greats, each sharing their thoughts on every aspect of what it means to be an All Black: first selection, the haka, international and provincial rugby, professionalism, team culture, camaraderie, technical advances, coaching and leadership. A one-of-a-kind account of New Zealand rugby, Legends in Black draws on unprecedented access to some of the biggest names in the game - revealing the secrets to why we win.   'The winning ethos was so fundamental to the culture and had been ingrained for years, and it just keeps going. The wonderful thing about the All Blacks is the tradition of its history, the belief by players in what happened before. Winning was something that was an absolute focus.' - John Hart   'Leadership is within the team. I had a role as a fixer, if there was trouble going on - not a dirty role, but as the one able to talk to the opposition and tell them, 'I wouldn't do that again, if I were you.''' - Colin Meads   'Winning becomes a habit, because success is fantastic, but when you take those platitudes you've also got to learn how to lose, lose well and graciously, and learn from your losses.' - Wayne 'Buck' Shelford   'It was about working out who you played the game for . . . it's not the name of the team or the colour of the jersey, but the people around you.' - Andy Haden   Also available as an eBook ...Show more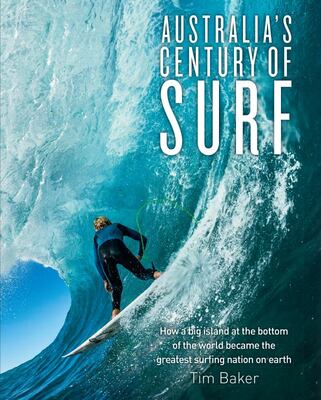 $45.00
AUD
Category: Sport
In 100 years, surfing in Australia has morphed from exotic Pacific Island curio to regimented training for life savers, from counterculture revolution to respectable mainstream sport. Along the way, it has shaped coastal migrations, spawned vast business empires and design innovations, produced sports s tars and spectacular casualties in equal measure, helped the beach overtake the bush as Australians' national, natural habitat of choice. No other sport has been through such profound cultural shifts or had such far-reaching influence on our national identity. This book marks the centenary of the great Hawaiian Olympic swimmer and surfer Duke Kahanamoku's historic visit to Australia in 1914. Duke was not the first to ride a surfboard in Australia, just one of the historical misnomers uncovered in this comprehensive and insightful text. But Duke's historic surfboard riding displays in the summer of 1914/15 set in motion a great wave of oceanic obsession that continues to this day. The story of Australian surfing is largely one of schisms: between freedom seeking beach-goers and censorial puritans, between the quasi-militaristic regiments and volunteerism of surf life savers and the selfish pleasure-seeking pursuits of board riders, the generational and attitudinal gulf between longboarders and shortboarders, professionals and so-called "soul" surfers, territorial tensions between locals and tourists. Many of our most dramatic cultural conflicts have been played out on the nation's beaches, from the pitched battles between rockers and surfers in the '60s, to the teen gender politics of Puberty Blues and the racial clashes of the Cronulla riots. ...Show more
$11.99
AUD
Category: Sport
Well-priced and extremely popular. -Ideal for any sailor both afloat and ashore. -Over 150 step by step photographs describe clearly the tying of over 30 knots and splices.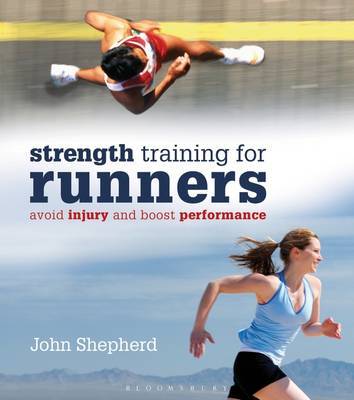 $35.00
AUD
Category: Sport
Due to cost and time pressures, people are abandoning the gym and organised sport in favour of more flexible and informal pursuits such as running. But it's not just as simple as getting the miles under your belt. Injuries can impact on your ability to train, and all runners can benefit from a simple st rength training and conditioning programme to boost performance and avoid unnecessary injuries. Strength and Conditioning is now regarded as integral to any training programme from marathon runners to triathletes. Strength Training for Runners is designed to keep you, as a runner, on track, whatever your level. Packed with photos illustrating the different techniques, this coaching manual is ideal for any motivated runner. Chapters will guide you through constructing a programme of exercises to keep you running fit, show you how to improve and strengthen your running and other muscles in specific warm ups and provide you with some great conditioning advice that will make you a stronger and faster runner. With the right strength training approach behind you, one that is balanced and reflects your training and racing needs, your injury risk can be significantly reduced and your performance significantly increased. ...Show more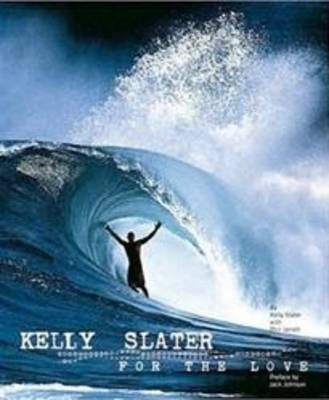 $24.95
AUD
Category: Sport
In 1994 Kelly Slater was the youngest man to ever win a surfing world championship. In 2008, he became the oldest man to ever win. No one knows nine-time world champion surfer Kelly Slater better than Kelly himself. In this revealing and heartfelt illustrated tribute, written with surfing veteran Phil J arratt, the world's best surfer riffs on a life filled with big wins, big money, and big loves. Interviews with friends and fellow surfers unearth juicy anecdotes, and hundreds of photographs capture the greatest victories and the quietest moments in equal measure. This beautifully produced book marks the first time Slater's story has been told in full colour, and reflects the latest twists and turns in an incredible and unconventional life. ...Show more
$35.00
AUD
Category: Sport
What do novelist Tim Winton, classical violinist Richard Tognetti, and celebrity chef Steve Snow have in common. In a word, surfing. Profiles the surfing world's most intriguing characters. First published 2007.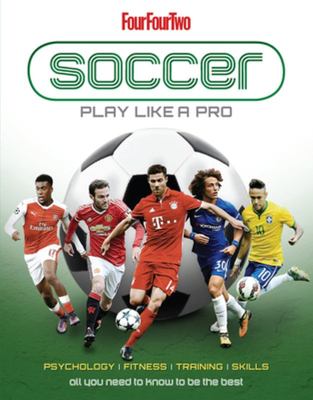 $39.99
AUD
Category: Sport
Illuminating interviews with some of the game's biggest names--both past and present. Workout tutorials, nutritional advice and a look at the best gear and equipment available to you. Fascinating in-depth features on preseason training camps, the importance of a good night's sleep and the five-a-side le ague that aims to help players lose weight and get fit. Workouts for burning fat and building muscle are provided. Clear instructions and images demonstrate the correct form and help you to target specific muscle groups and work on different in-game situations. We also bring you wonderfully illustrated guides to working out in the winter and on rainy days, while there's also loads of essential advice on everything from in-game psychology and fitness equipment to eating the right foods to fuel your body. Contributors include David Luiz, Robert Pires, Gabriel Jesus, Xabi Alonso, Michael Owen, Jesse Lingard, Javi Martinez, Dominic Calvert-Lewin and many more. ...Show more