$24.99
AUD
Category: Reference
The English language is changing constantly. We invent new words and phrases, we mash up idioms, we mispronounce, misuse, misappropriate. Sue Butler has heard it all and is ready to defend and disagree with common usage. Veering from tolerance to outrage, she examines how the word sheila took a nose-div e after World War II, considers whether we should hunker or bunker down, and bemoans the emptiness of rhetoric. She shouts 'down with closure' as it leaps from the psychoanalyst's couch, explains why we've lost the plot on deceptively, untangles the manuka honey stoush, fathoms why the treatment of famous is infamous, and ponders whether you would, could or should ...Rebel without a Clause is a fascinatingly idiosyncratic romp through the world of words by lexicographer and former Macquarie Dictionary Editor, Sue Butler. ...Show more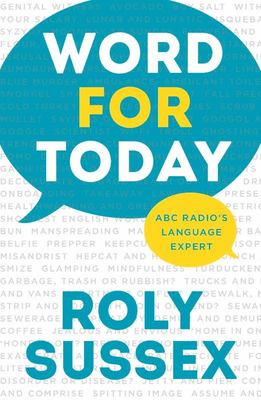 $24.99
AUD
Category: Reference
Did you know that the word salary comes from the Latin salfor 'salt', since part of the payment to Roman soldiers was in salt? That braces and suspenders used to refer to different items of clothing? Or that trolls have migrated from fairytales to online discussion forums? The English language is curren tly going through a period of tremendous ferment, growth and expansion. Old 'rules' are being challenged, or weakened. New ones are emerging. And mistakes and misuses are popping up with all the speed that the internet can provide. For over two decades, linguist Roly Sussex has documented the nature and evolution of the English Language on his popular weekly ABC Radio program 'Word for Today'. For the first time, the best of these reflections on word origins, neologisms and misuses are collected in this witty and insightful book. With Word for Today, you'll always have a word for tomorrow. ...Show more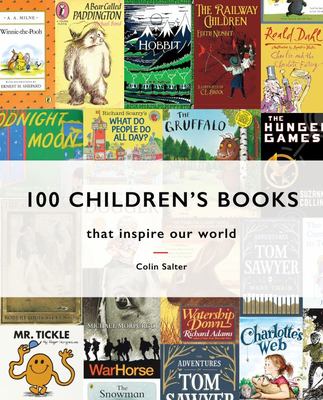 $32.99
AUD
Category: Reference
An amazing collection of the most beloved, original, inspiring, hysterical, heart-warming, compelling, rude and downright scary books that have enchanted children the world over. In 100 Children's Books That Inspired Our World, author Colin Salter brings together an exceptional collection of truly groun dbreaking children's books - from Mark Twain's Tom Sawyer to the graphic novels of Dr. Seuss. All the classic children's authors are represented with one stand-out book, plus mentions for their best-known works. Ordered chronologically, the book features favourite children's books ranging from Victorian classics to modern day bestsellers. Entries include: Alice in Wonderland, Treasure Island, Charlotte's Web, A Series of Unfortunate Events, Matilda, Watership Down, Tales of Hans Christian Anderson, Grimms Fairy Tales, Peter Pan, A Bear Called Paddington, The Snowman, The Secret Garden, How to Train Your Dragon, Anne of Green Gables, Harry Potter, James and the Giant Peach, The Gruffalo, Mr Men, Coraline, Herge's Adventures of TinTin, The Curious Incident of the Dog in the Night-time, Finn Family Moomintroll, Swiss Family Robinson, Heidi, The Hobbit, The Red Balloon, The Jungle Book, Mary Poppins, The Tale of Peter Rabbit, His Dark Materials, The Railway Children, Noddy, The House at Pooh Corner, The Sheep Pig, Stig of the Dump, Fungus the Bogeyman, Nancy Drew, The Hardy Boys, Secret Seven, Famous Five, Black Beauty, The Diary of a Young Girl, The Boy in Striped Pyjamas, Artemis Fowl and many more who lived happily ever after. ...Show more
$39.95
AUD
Category: Reference | Series: Macquarie Ser.
This fifth edition of the Macquarie Pocket Dictionary belongs to the proud pedigree of the Macquarie Dictionary, widely recognised as Australia's national dictionary. The highly successful Pocket draws on the same research and lexical database to create the most authoritative, up-to-date and definitive record of Australian English currently available in a pocket format. Written in a clear and accessible style for a home, school and office audience, the Pocket contains: more than 50 000 headwords, phrases and run-on headwords; more than 80 000 definitions; more than 1000 new entries, such as acai berry, bae, cryptocurrency, eSport, keep cup and Mx; more than 6000 encyclopedic entries, including new entries such as Brexit, Morrison, palawa kani and Rohingya; extensive coverage of specialist categories, useful etymologies and illustrative phrases; an easy-to-follow pronunciation system; appendixes on grammar, punctuation and measurement, along with other useful reference lists. Macquarie Pocket Dictionary - the up-to-date, authoritative guide to Australian English in a compact and durable format. Get a BONUS Macquarie Pocket Thesaurus with every Macquarie Pocket Dictionary! ...Show more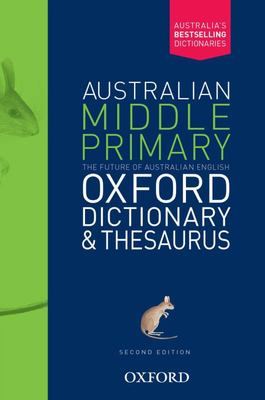 $26.95
AUD
Category: Reference | Series: Australian Dictionaries/Thesauruses/Reference Ser.
The Australian Middle Primary Oxford Dictionary & Thesaurus (2e) is the most up-to-date, fully integrated primary dictionary and thesaurus available in Australia. It draws on the very latest Australian research into the words most commonly used by Australian children in Years 3 and 4, and combines a dictionary and thesaurus using an innovative 'one-stop' entry format. Key features:Age level: 8-10Over 11 000 dictionary head words and thesaurus entriesAlphabet edge indexes for clear signposting and easy navigationSimple respelling system to aid pronunciationWord origins are explained, while synonyms and antonyms are included within dictionary entriesWord building boxes are included to develop students' morphology skillsExample sentences to show words used in context. ...Show more
$22.99
AUD
Category: Reference
Level Up Your Essays is the essential guide to essay writing for university students. Written by the people who mark your essays, it will show you step-by-step how to write high-quality essays that will get you top marks.This book will guide you through all the stages, including your essay plan, develop ing research strategies, writing with distinction, finishing strongly with editing, and getting your referencing right every time. Bursting with insider tips and tricks on what markers look for, this clear and easy-to-use guide includes:22 worksheets with exercises and checklists The secret formula for a good essay (yes, there is a formula!) Practical insights into digital tools to help you with research, writing and referencing Guidelines for getting your academic English right every time Common mistakes and missteps and how to fix them Straightforward information for international students Successful time management strategies so you never hand in an essay late No matter what grades you get now, this book will revolutionise your essay writing – and get you the marks to prove it.'Whether you're just starting out at university or well into your graduate studies, this book contains incredibly valuable advice that will help you take your writing to the next level.' — Miranda Gronow, BA (Hons), University of Melbourne, DPhil Candidate'More than just a guide to structure and writing style, this book demystifies the essay-writing process, giving insight into what lecturers want to read. I can't recommend it strongly enough.' – Dr Catherine J Frieman, Associate Professor, Australian National University ...Show more
$34.99
AUD
Category: Reference
Georgia Richter and Deborah Hunn look at the business of becoming an author. In a friendly, informative and practical way they share all you need to know about inspiration and research, preparing to submit to a publisher, creating an author brand, legal, ethical and moral considerations, pitching and ef fective social media and much more. ...Show more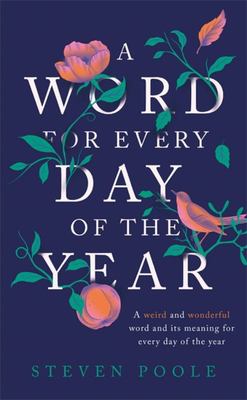 $22.99
AUD
Category: Reference
A weird and wonderful word and its meaning for every day of the year.   Who knew that to dringle is to 'waste time in a lazy lingering manner'? Or that a sudden happy ending could be termed a eucotastrophe? Looking for an alternative word to 'bullshit'? Then try taradiddle.A Word for Every Day of the Year is a fascinating collection of 366 words and their definitions, perfect for anyone who loves the richness of the English language, its diversity and wants to expand their vocabulary. Each day offers a rare and remarkable word with its history and definition and occasionally a challenge to include it in our lives. ...Show more
$49.99
AUD
Category: Reference
366 quotations - one for every day of the (leap) year - each with a fascinating historical story.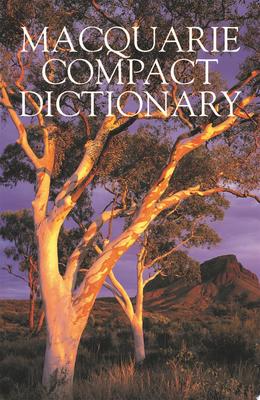 $29.99
AUD
Category: Reference
The Macquarie Compact Dictionary is based on the complete Macquarie Dictionary Eighth Edition. It is an up-to-date record of the core of Australian English, in a convenient format.The Macquarie Compact Dictionary features:- more than 50,000 words and phrases- up-to-date entries such as cancel culture, d eepfake, eco-anxiety, hygge, influencer, Me Too, ngangkari, single-use, social distancing- pronunciations in the International Phonetic Alphabet- idiomatic phrases- illustrative phrases showing how a word is used in context- free six-month subscription to Macquarie Dictionary Online ...Show more
$32.99
AUD
Category: Reference
'Susie Dent is a one-off. She breathes life and fun into words and language' Pam Ayres 'Susie Dent is a national treasure' Richard Osman Welcome to a year of wonder through the English language with Susie Dent, lexicographer extraordinaire and queen of Countdown's Dictionary Corner. From Turning a Blind Eye (Nelson putting the telescope to his missing eye to ignore the order to stop fighting) to why May Day became a distress call; from stealing someone's thunder to the real Jack the Lad, from tartle (forgetting someone's name) to snaccident (unintentionally eating a whole packet of biscuits), WORD PERFECT is her brilliant linguistic almanac full of unforgettable true stories tied to every day of the year. You'll never be lost for words again. ...Show more