$29.99
AUD
Category: Travel
Anthony Bourdain saw more of the world than nearly anyone. His travels took him from the hidden pockets of his hometown of New York to a tribal longhouse in Borneo, from cosmopolitan Buenos Aires, Paris, and Shanghai to Tanzania's utter beauty and the stunning desert solitude of Oman's Empty Quarter - a nd many places beyond. In World Travel, a life of experience is collected into an entertaining, practical, fun and frank travel guide that gives readers an introduction to some of his favorite places - in his own words. Featuring essential advice on how to get there, what to eat, where to stay and, in some cases, what to avoid, World Travel provides essential context that will help readers further appreciate the reasons why Bourdain found a place enchanting and memorable. Supplementing Bourdain's words are a handful of essays by friends, colleagues, and family that tell even deeper stories about a place, including sardonic accounts of traveling with Bourdain by his brother, Chris; a guide to Chicago's best cheap eats by legendary music producer Steve Albini, and more. Additionally, each chapter includes sly, witty illustrations by cartoonist Tony Millionaire. For veteran travelers, armchair enthusiasts, and those in between, World Travel offers a chance to experience the world like Anthony Bourdain.   ...Show more
$34.99
AUD
Category: Travel Guides | Series: Travel Guide Ser.
Lonely Planet Best Day Walks Australia is your passport to 60 escapes into nature. Stretch your legs away from the city by picking a walk that works for you, from just a couple of hours to a full day, from easy to hard. Stroll vine-striped hillsides, discover hidden coastlines, or explore the Outback. G et to the heart of Australia and begin your journey now!   Inside Lonely Planet Best Day Walks Australia Travel Guide:  Colour maps and images throughout Special features - on Australia's highlights for walkers, kid-friendly walks, accessible trails and what to take Best for... section helps you plan your trip and select walks that appeal to your interests Region profiles cover when to go, where to stay, what's on, cultural insights, and local food and drink recommendations to refuel and refresh. Featured regions include: Sydney & Around, Byron Bay to the Sunshine Coast, The Daintree & the Far North, the Outback, The Kimberley & Pilbara, Southwest Forests to the Sea, Flinders to Fleurieu, Grampians to the High Country, the Prom to the Great Ocean Road, and Tasmania Essential info at your fingertips - walk itineraries accompanied by illustrative maps are combined with details about walk duration, distance, terrain, start/end locations and difficulty (classified as easy, easy-moderate, moderate, moderate-hard, or hard) Over 70 maps   The Perfect Choice: Lonely Planet Best Day Walks Australia, our most comprehensive guide to walking in Australia, is perfect for those planning to explore Australia on foot. Looking for more information on Australia? Check out Lonely Planet Australia guide for a comprehensive look at what the country has to offer.    ...Show more
$39.99
AUD
Category: Travel Pictorial
From lap pools to ocean pools, harbour pools to waterfalls, Sydney is arguably the best major city in Australia for swimming, if not the world! And Places We Swim in Sydney covers the very best of the city's famous and hidden swimming spots. After the success of their first book, Places We Swim, author s Caroline Clements and Dillon Seitchik-Reardon have followed up with a deep dive into Sydney in this ultimate city guide to the aqueous outdoors. Places We Swim in Sydney is divided into six city regions, encompassing walks and swims within two hours of the CBD - from Manly in the north, to Maroubra in the east, Royal National Park in the south, and out to the Blue Mountains in the west. You'll discover just what makes each swimming spot unique, learn the best time to go, gain some useful local knowledge and find out the most delicious things to eat nearby. With destinations ranging from neighbourhood city pools to gorges that feel like the outback, Places We Swim in Sydney is a celebration of not just these magnificent swimming locations, but of the diverse landscapes and water-loving communities that make up Sydney.   ...Show more
$39.99
AUD
Category: Travel | Series: Ultimate Ser.
In Ultimate Campsites: Australia, Penny Watson maps out 75 of the country's most wild and wondrous nature-based campgrounds, from the turquoise and white sandy beaches of Queensland and pristine national parks of New South Wales, to the wineries of South Australia and the wilderness areas of Tasmania. Ever pitched a tent within a stone's throw of a picturesque waterfall? Ever woken up in a sleeping bag to the gentle sound of waves? Ever seen the sun go down in the desert or fallen asleep in an ancient rainforest? Well, now's the time to tick off these experiences on your camping bucketlist! Each state-by-state chapter in Ultimate Campsites: Australia contains detailed maps and the what-when-why-where information about each campground, alongside tips and anecdotes about the surrounding regions. You'll find special sections dedicated to remote-island campgrounds, as well as sites with great walks and places close by to Indigenous cultural experiences. There are also quick and easy lists for camping with pets, free camping, 4WD access and commercial campgrounds, and handy camping trail itineraries for when you want to tick off two or three campgrounds in one trip. This book is an essential tool for the glovebox, be it in a 2WD or a motorhome. It's also the kind of book that will get plenty of wear and tear on the coffee table while you're planning that next big adventure in Australia's great outdoors. ...Show more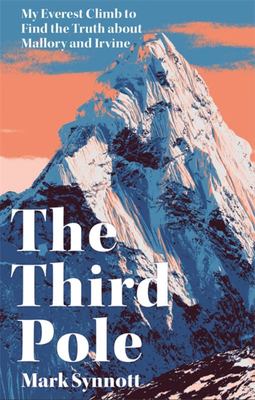 $32.99
AUD
Category: Travel Vicarious
Veteran climber Mark Synnott never planned on climbing Mount Everest, but a hundred-year mystery lured him into an expedition--and an awesome history of passionate adventure, chilling tragedy, and human aspiration unfolded. On June 8, 1924, George Mallory and "Sandy" Irvine set out to stand on the roof of the world, where no one had stood before. They were last seen eight hundred feet shy of Everest's summit. A century later, we still don't know whether they achieved their goal, decades before Sir Edmund Hillary and Tensing Norgay did, in 1953. Irvine carried a Kodak camera with him to record their attempt, but it, along with his body, had never been found. Did Mallory and Irvine reach the summit and take a photograph before they fell to their deaths? Mark Synnott made his own ascent up the infamous North Face along with a filmmaker using drone technology higher than any had previously flown. His goal: to find Irvine's body and the camera he carried that might have held a summit photo on its still-viable film. Synnott's quest led him from oxygen-deprivation training to archives and museums in England, to Kathmandu, the Tibetan High Plateau, and up the North Face into a storm during a season described as the one that broke Everest. An awful traffic jam of climbers at the very summit resulted in tragic deaths. Sherpas revolted. Chinese government agents turned adversarial. An Indian woman crawled her way to safety and survival. Synnott himself went off the safety rope--if he had slipped, no one would have been able to save him--desperate to solve the mystery. A magnificent story a la The Lost City of Z, The Third Pole conveys the miracle of a mountain the world wants to own, and the first explorers who may have done so. ...Show more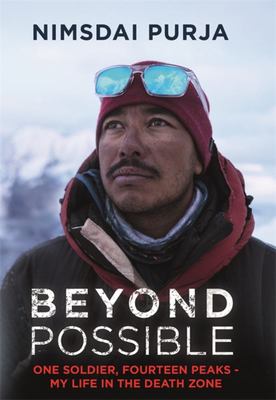 $32.99
AUD
Category: Travel
My comfort zone begins where most individuals quit. As a kid in Nepal, I went barefoot because my family had nothing. That's how I developed the resilience I needed for joining the Gurkhas - one of the most fearless forces in the British Army. Then against all odds, I became the first ever Gurkha soldie r in more than 200 years of history to join the Special Boat Service where I served in the some of the world's most dangerous warzones, kicking down doors to capture enemy gunmen and terrorist bomb makers. But elite combat wasn't enough. I wanted more of a test. That's where my next project came in, something nobody thought possible - to climb all fourteen "death zone" mountains in seven months. Fear became irrelevant because I had belief. In the death zone, I came alive. Beyond Possible: One Soldier, Fourteen Peaks - My Life In The Death Zone is the inside story of my incredible adventure.   ...Show more
$39.99
AUD
Category: Travel
From lap pools to sea pools, the ocean, waterfalls, hot springs and rockpools, Places We Swim features 60 of the very best swimming spots around Australia. Each destination entry includes information on what makes the swimming spot unique, local knowledge and things to do, see and eat in the area. The t ext is complemented by beautiful photography from some of Australia's most celebrated lifestyle photographers, which will inspire you to see this country in a new light. The book also profiles a range of people from an extreme ocean swimmer to a chef that builds his menu around the sea. This inspirational reference guide will have you returning to the water again and again.  ...Show more
$39.99
AUD
Category: Travel
ABC broadcaster and bestselling author of Ghost Empire and Saga Land, Richard Fidler is back with a personally curated history of the magical city that is Prague. In 1989, Richard Fidler was living in London as part of the provocative Australian comedy trio The Doug Anthony All Stars when revolution bro ke out across Europe. Excited by this galvanising historic, human, moment, he travelled to Prague, where a decrepit police state was being overthrown by crowds of ecstatic citizens. His experience of the Velvet Revolution never let go of him. Thirty years later Fidler returns to Prague to uncover the glorious and grotesque history of Europe's most instagrammed and uncanny city: a jumble of gothic towers, baroque palaces and zig-zag lanes that has survived plagues, pogroms, Nazi terror and Soviet tanks. Founded in the ninth Century, Prague gave the world the golem, the robot, and the world's biggest statue of Stalin, a behemoth that killed almost everyone who touched it. Fidler tells the story of the reclusive emperor who brought the world's most brilliant minds to Prague Castle to uncover the occult secrets of the universe. He explores the Black Palace, the wartime headquarters of the Nazi SS, and he meets victims of the communist secret police. Reaching back into Prague's mythic past, he finds the city's founder, the pagan priestess Libussa who prophesised: I see a city whose glory will touch the stars. Following the story of Prague from its origins in medieval darkness to its uncertain present, Fidler does what he does so well - curates an absolutely engaging and compelling history of a place. You will learn things you never knew, with a tour guide who is erudite, inquisitive, and the best storyteller you could have as your companion.  ...Show more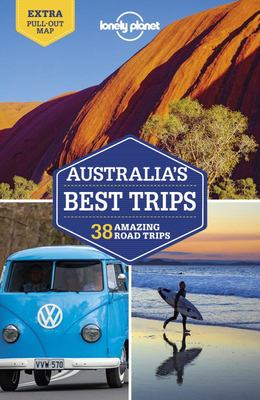 $34.99
AUD
Category: Travel | Series: Travel Guide Ser.
Lonely Planet: The world's number one travel guide publisher* Whether exploring your own backyard or somewhere new, discover the freedom of the open road withLonely Planet's Australia's Best Trips.Follow the Great Barrier Reef along the Capricorn Coast, explore the dramatic landforms and wildlife-rich Kakadu National Park, and surf famous beaches along the Great Ocean Road - with the 38 amazing road trips in this trusted travel companion. Jump in the car, turn up the tunes and hit the road! Inside Lonely Planet's Australia's Best Trips: Lavish colour and gorgeous photography throughout Itineraries and planning adviceto pick the right routes tailored to your needs and interests Get around easilywith easy-to-read, full-colour route maps, plus detailed directions Insider tipsto get around like a local, avoid trouble spots and be safe on the road - local driving rules, parking, toll roads Essential infoat your fingertips- hours of operation, phone numbers, websites, prices Honest reviews for all budgets- eating, sleeping, sightseeing, hidden gems that most guidebooks miss Useful features- including Stretch Your Legs, Detours, and Link Your Trip CoversSydney, Melbourne, Canberra, the South Coast, Victoria, Queensland, Brisbane, Tasmania, the Outback. The Perfect Choice: Lonely Planet's Australia's Best Tripsis perfect for exploring Australia by road and discovering sights that are more accessible by car. Planning an Australia trip without a car? Lonely Planet's Australiais our most comprehensive guide to the country, and is packed with popular and off-the-beaten-path experiences. About Lonely Planet: Lonely Planet is a leading travel media company and the world's number one travel guidebook brand, providing both inspiring and trustworthy information for every kind of traveller since 1973. Over the past four decades, we've printed over 145 million guidebooks and grown a dedicated, passionate global community of travellers. You'll also find our content online, and in mobile apps, video, 14 languages, nine international magazines, armchair and lifestyle books, eBooks, and more. 'Lonely Planet guides are, quite simply, like no other.' - New York Times 'Lonely Planet. It's on everyone's bookshelves; it's in every traveller's hands. It's on mobile phones. It's on the Internet. It's everywhere, and it's telling entire generations of people how to travel the world.' - Fairfax Media (Australia) *Source: Nielsen BookScan: Australia, UK, USA, 5/2016-4/2017 Important Notice:The digital edition of this book may not contain all of the images found in the physical edition. ...Show more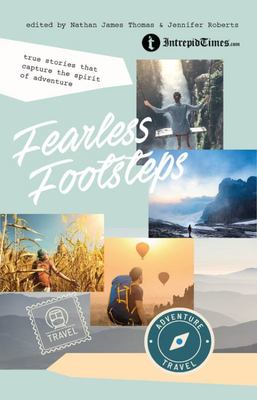 $29.99
AUD
Category: Travel Vicarious
Travelling the world is an exhilarating, eye-opening, life-affirming experience. But it can also be scary to even think about. There are language barriers, borders to cross, planes to fly in, and of course, the mystery of an unknown land. It can be difficult to take the chance, even when you're yearni ng for adventure. This inspirational collection of true travel stories proves that the best journeys are to be had when you feel the fear but go anyway. From a nervous flier anxiously taking to the skies for the first time to a female traveller braving the Middle East, from a death-defying hike on an Indonesian volcano to the anxious freedom of finding yourself alone on the other side of the world, these stories are certain to send you looking for your passport. Created by the popular travel writing website, Intrepid Times, as part of an international writing competition that saw entries pouring in from across the globe, Fearless Footsteps is travel writing at both its most exhilarating and its most introspective. Covering every continent from Africa to Antarctica, these carefully selected stories get to the heart of what it means to be a traveller and see the world with courage, open-mindedness, and relentless curiosity.   ...Show more
$32.99
AUD
Category: Travel Vicarious
From their faithful camper van to boats, kayaks, bicycles, and motorbikes, join stars of Outlander, Sam and Graham on a road trip with a difference, as two Scotsmen explore a land of raw beauty, poetry, feuding, music, history, and warfare. Unlikely friends Sam and Graham begin their journey in the hea rt of Scotland at Glencoe and travel from there all the way to Inverness and Culloden battlefield, where along the way they experience adventure and a cast of highland characters. In this story of friendship, finding themselves, and whisky, they discover the complexity, rich history and culture of their native country. ...Show more
$32.99
AUD
Category: Travel
The incredible, inspiring story of a solo journey through Australia's toughest and most beautiful hiking trail - the Australian Alps Walking Track - for fans of INTO THE WILD by Jon Krakauer or Cheryl Strayed's WILD and anyone who dreams of iconic wilderness walks. At the start of the hellish, fiery Au stralian summer of 2019/20, Walkley Award-winning journalist and suburban dad Anthony Sharwood set off on a journey. Abandoning his post on a busy news website to clear his mind, he solo-trekked the Australian Alps Walking Track, Australia's most gruelling and breathtakingly beautiful mainland hiking trail, which traverses the entirety of the legendary High Country from Gippsland in Victoria to the outskirts of Canberra. The journey started in a blizzard and ended in a blaze. Along the way, this lifelong lover of the mountains came to realise that nothing would ever be the same - either for him or for the imperilled Australian Alps, a landscape as fragile and sensitive to the changing climate as the Great Barrier Reef. ...Show more